On 5th June, members of Form 5C (1964/1965) met up again after the small gap of over fifty years. Most had already celebrated, whilst the remainder were about to celebrate, their 70th birthday, during the last school year, 2018/2019.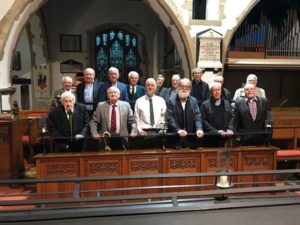 Of that original class of 26, 11 were able to meet, 3 had a weak, but acceptable, excuse not to do so and 9 members still remain incognito, perhaps deliberately ! Very sadly, 3 original form members have already gone on to the 'Highest' education and are no longer with us. They were missed, yet their memory toasted by their friends present. A great day of reminiscing and renewing friendships ended with a 'unique' rendition of the old School song, by the musically challenged 5C choir, ably assisted by several other Old Ruymians, at an organ recital given in St Peter's in Thanet Church by Nigel Pursey, Associate Director of Music, Shrewsbury Abbey, one of the 5C members. It was a privilege to have Mr Thomas (Chemistry) and Mr Witton (History), former 5C Masters, in the recital audience with us.
Any information from O.R. members as to the possible whereabouts of the remaining 5C members would be greatly appreciated. They are :- T Cooper, J Davies, D Downes-Powell, J Hedges, P Rowland, C Stephens and C Whitlock.
Please contact barry_huckstep@hotmail.com if you are able to help.
1,538 views