Mrs. Ann Peerless passed away on 19 November 2016.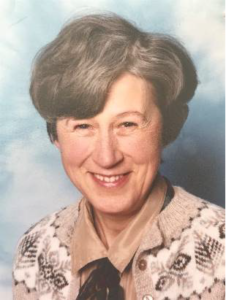 Ann taught Art at Clarendon House School from 1979 to 2000. For most of this period she was based on the top floor of the Hilderstone Adult Education Centre, a short walk along Tomson's Passage to Chapel Place, and on occasion at the Red House and in prefabricated huts. She may be remembered by students for her energy and enthusiasm, as well as her unusual still life subjects.
Ann read Fine Art at Reading University under Professor Betts, and started her teaching career in Bedford, before moving to London. There, in addition to teaching at Holloway Prison, she worked for Floris where she designed the Queen Mother's birthday cake. In 1964, Ann was appointed Lecturer and later Senior Lecturer at Coloma College in West Wickham, a Catholic teacher training college, where she taught until 1974.
Ann also lectured for the University of Kent, the Victoria & Albert Museum and NADFAS on art history and Indian civilization and art, which became a life-long interest which she shared with her husband, Bury. Her voluntary work for the English Speaking Union as local branch chairman benefited many school children in East Kent.
Ann was diagnosed with Mesothelioma, a cancer of the lung caused by exposure to asbestos, in January 2016, and she died shortly before her 80th birthday in November. Full of enthusiasm and energy until shortly before this diagnosis, the knowledge that her rapidly failing health was likely caused by exposure to asbestos while doing what she loved – teaching – hit her particularly hard.
She is survived by her son, David, and his family. David would be delighted to hear from his mother's former students and is also keen to receive any information regarding exposure to asbestos. His email address is dmpeerless@gmail.com.
1,464 views