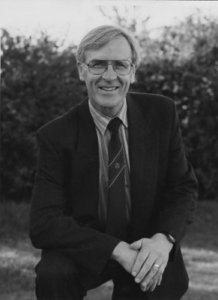 Christopher Charles Templeman Forde
(1944 – 2018)    Co 1954 – 62
OR's particularly those who were at school in the 50's and early 60's will be saddened to learn of the death of Chris (CCT) Forde at the end of March 2018. He was 73. Chris was a very talented if somewhat bulky games player at school but later lost a great deal of weight. He was a forward in the First XV Rugby team, a hard hitting full back in the First XI Hockey team and an opening batsman and wicket keeper in the First XI cricket team who could also bowl accurately at medium pace if required. His team mate in the hockey team Derek White recalls that Chris could be relied upon to clear the ball with such power that none of the opposing team could stop it! He became a Prefect and was House Captain of Coleman's. Chris was a keen member of the OR's and for many years played for them during cricket week when he was on holiday visiting his family in Ramsgate.
After leaving school in 1962 Chris attended Leicester College of Art and Technology to study "Industrial Maths" which involved learning how to program the latest computer models. In those days they took up whole rooms and spewed out reams of paper covered with numbers and symbols. Whilst at Leicester Chris met his wife Vicki who was studying Business and Management at the College and they married in September 1967. After starting his career in Hull, Chris relocated to Leicester and, after working for Rank Precision Industries, Chris began commuting to Derby where he worked for the County Council. To reduce the travelling Chris and Vicki moved to East Leake between Nottingham and Loughborough where they spent the rest of their married life. They celebrated their golden wedding anniversary in September 2017. Chris eventually moved to the Systems Analysis Section of the University of Nottingham where he played a large part in setting the University's programmes to link into the newly on line UCAS system.
Eventually Chris had the chance to take early retirement at the age of 56 but had no intention of settling down with "Sky Sports". He took a job with a Loughborough company delivering parts to various garages in the East Midlands often going above and beyond his working hours to deliver urgent parts. When he was diagnosed with prostate cancer and needed radiotherapy he took on the delivery drops for Nottingham and Derby fitting in his daily sessions at a Nottingham hospital en route. He never missed a day's work during the whole six weeks of his treatment.
Chris continued to pursue his love and participation in sport throughout his life and played hockey and cricket to a high standard for many years. He was also a long standing member of Nottinghamshire County Cricket Club and an enthusiastic spectator at County and Test Matches at Trent Bridge. His knowledge of cricket was second to none. He played for Loughborough Town Hockey Club and was also an umpire for them and Committee member until his death. He was instrumental in resurrecting East Leake Cricket Club where he became captain and opened the batting for many years. He also took a keen interest in the upkeep of the ground and would mow and roll the wicket on his way home from work still dressed in a suit!
As he grew older Chris turned to hockey umpiring a skill he had originally acquired via his Mother who was the leading light in organising the very large Thanet Women's Hockey Festival whilst Chris was at school. He was at one stage the youngest qualified women's hockey umpire in England. He became a regular umpire for for both men's and ladies teams in Notts and Leics and an accredited Midlands League Umpire. In recent years, as his fitness level declined somewhat, he turned increasingly to umpiring schools hockey principally at Uppingham College near Oakham where he became a part time member of staff. He umpired his last hockey matches during the weekend of 24/25th February 2018 just before the onset of his final illness.
Through his involvement with hockey Chris experienced two memorable weeks at the 2012 London Olympics where he volunteered as a Games Member. He was appointed to be one of the welcoming committee for VIP visitors to the hockey stadium, meeting and greeting them at the entrance and showing them to their seats. He was able to watch a great deal of hockey and other events whilst "off duty" and managed to be present with Vicki in the Olympic Stadium on "super Saturday" when Great Britain won three gold medals.
Chris's experience and love of hockey meant that he was the ideal committee member and besides Loughborough Town HC he served on the committees of the East Midlands Umpires Association, Leicestershire Hockey Executive and the Midlands League where he was closely involved with the scheduling of fixtures. Since his death many people have commented on the immense contribution Chris made to the game over many years.
During the 48 years he lived in East Leake Chris became very involved with the wider community. He was a long serving member of the churchyard mowing team and a driver for the Soar Valley community bus. He was also a community care driver always willing to take people to and from appointments at local hospitals. Nothing was ever too much trouble for him. When he was diagnosed with prostate cancer he faced it with courage and composure. He volunteered to be part of a trial being conducted at Nottingham City Hospital and joined the Prostate Cancer Support Group where he was co-opted on to the steering committee. Bob Oldroyd has mentioned that the contribution which he made to this was invaluable.
Chris was a devoted husband, father and grandfather. His love and pride for his three daughters and their families including seven grandchildren was obvious to anyone who met him. It was fitting that each of his daughters paid very moving tributes to him at his memorial service. As his wife Vicki has written "Chris was a fine man and a lovely man whose humour and smile and ability to chat brightened up everyone's day. His life was well lived for which we give thanks and gratitude."
Chris's memorial service at East Leake on 17 April 2018 was a moving and uplifting occasion but with a good deal of humour and Chris would have thoroughly approved of it. Five OR's were present in the large congregation. They were Chris's cousin Nicol Holladay, Bob Oldroyd and John Stroud (old friends who live in the Nottingham area) and John Coombs and Len Summerfield who were at college with Chris.
John Stroud Si 1956-64
With grateful thanks to Chris's wife Vicki and his daughters Helen, Deborah and Caroline.
1,344 views