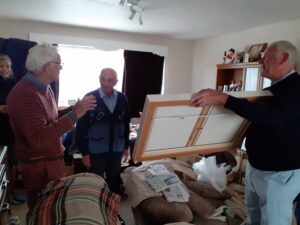 Sadly the big event organised by Terry Gilliland to celebrate Tommy's 90th birthday had to be postponed due to Covid restrictions.
Terry did however organise a small event to celebrate the occasion. A small group met at Tommy's house where he was presented with a marvellous portrait painted by John Newton (left) and commissioned by Terry (right). We were able to see a magnificent collection of over 90 cards and good wishes many sent by former pupils at the School. I have to say to all that contributed that Tommy was absolutely delighted.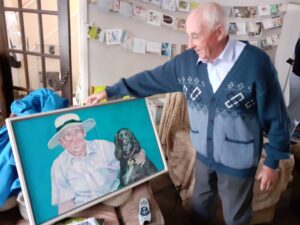 Following the short presentation we adjourned to meet up with Mike and Bonnie Tyrrell at the Captain Digby for a "Rule of Six" lunch. The journey proved to be a little more complicated than expected owing to changes to the Broadstairs traffic system, but we were still able to arrive before the Scotch Eggs had run out - oh no, my mistake, Tiers hadn't been invented yet. In any case we were well looked after and provided for and fortunate to have been able to get together at all. We hope that the get together originally conceived with a much larger number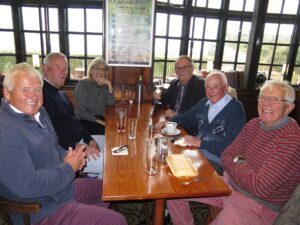 of people will go ahead at some point in the future even if 23rd April as recently envisaged is looking somewhat unlikely. At the table of the Captain Digby from right to left: Tony Debling, Terry Gillilland, Bonnie Tyrrell, Mike Tyrrell, Tommy Thomas and John Newton.
823 views