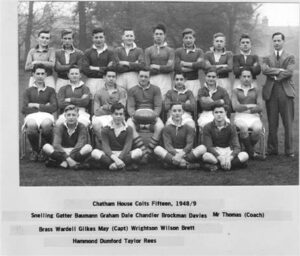 Many thanks to Joan Mortimer who sent us this photo, with the message below.
"Hello from Australia, it might be that Mike and Bonnie have been superseded by other very kind and patient keepers of the records. If so, then hello to you.
Above you will see a photo of the 1949 team which includes 'Chas' Chandler and Ken Brett who were friends at that time. In the years that followed they lost touch, the way you do, but Ken would now like to find out more about Chas as he thinks his wife's family history could be entwined with that of Chas.
I have been unable to choose for certain the right person as Ken remembers so little about the Chandler family. He recalls them as living in Approach Road, Margate but they weren't there in 1939. 
Is there anything at all that you might have on file still for him which could point us in the right direction to finding him and his family, please? For instance, the date of birth as this is shown on the 1939 Register, the full names of his parents. Anything at all would be so much appreciated. "
1,000 views