This year's Golf Day was held on Friday 12th April at North Foreland Golf Club in Kingsgate. We tried a new format this year where we held the usual long course Stableford competition for the regular golfers and in parallel held a competition on the short course for those of us who do not get to play as often as we would like. Whilst the long course has a fine reputation having  been used for preliminary rounds of the British Open, the locals will know that the short course is also not for the feint-hearted offering some tricky holes and intimidating bunkers in spite of the modest distances.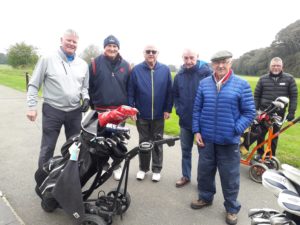 The long course was played by Ken Flower, John Darby, Paul Hollingum, Terry Gilliland, Stephen Harris, Bob Green, Antony Nicolaou, Ty Harding, Tony Tucker  and Terry Westby.
The short course was played by Paul Goatham, David Wake, David Dixon, Tony Debling, Phil Goldsmith and Tim Dixon.
The weather, whilst not up to the usual gloriously sunny standards was kind enough to keep us dry throughout and did not detract from an always enjoyable sporting event.
We were joined for lunch by Tommy, Dave Lunn, Peter Arnold, Mike and Bonnie Tyrrell, John and Carol Copeland, Janet Hughes and Tony Carpenter.  The catering at North Foreland was excellent on this occasion and appreciated by all the diners.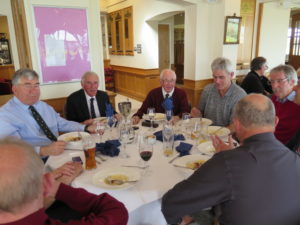 After thanking the Club and catering staff the days prizes were awarded. Ty Harding added his name as a second time winner of the main competition with Paul Hollingum winning the longest drive. Dave Dixon, fresh from his international duties for England over 60 Hockey XI took the prize for the first short course competition.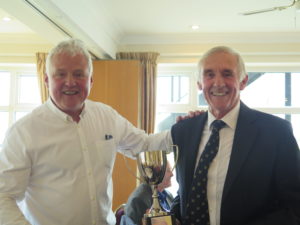 Apologies for absence were received from Nicol Holladay and Nick Alder.
Next year we plan to repeat the format of running a long course and short course competition and hope that we have more participants particularly for the short course events. The event will be held on Friday 24th April 2020 and will mark its 10th year.
Of course any Old Ruymians and partners are welcome to register for the lunch and socialising.
948 views